Frequently Asked Questions
01. Who is Johan van Laarhoven?
Johan van Laarhoven is one of the pionieers in the history of Dutch coffeeshops,
Johan was the first person to open up a coffeeshop outside big cities such as Rotterdam and Amsterdam. The first coffeeshop he opened is called 'ochtendgloren' located in Tilburg, which actually means dawn in Dutch. In the decennia that followed The Grass Company opened three more coffeeshops and became the biggest coffeeshop chain in the southern part of the Netherlands. Nowadays The Grass Company has four coffeeshops: Two in Tilbu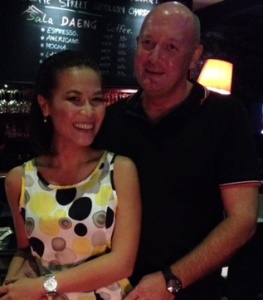 rg and two in 's Hertogenbosch.
At the end of 2008, after years of hard work, Johan moved to Thailand together with his Thai wife and two children. He wanted to spent more time with his family and decided that he want to enjoy life more and work less. In 2011 Johan decided that he wanted to retire, he sold his beloved company to the current owner. Around the same date that The Grass Company is sold the Dutch Public Prosecutor started a investigation and Johan van Laarhoven is one of the prime suspects. Read the entire story here.
02. Why this campagne?
Johan van Laarhoven earned money by selling cannabis in coffeeshops according to the Dutch softdrug tolerance policy. Al of Johan's coffeeshops were in accordance with the criteria set by the Dutch government and are open to this day under new ownership.
If you were to say Johan did not obey the law –which is not the case- it would be in the Netherlands not in Thailand. That is why we think Johan and his wife deserve a fair trial in the Netherlands.
By means of our petition in the Netherlands and this website we try to attract the attention of the public and the Dutch and Thai government to bring Johan and his Wife Tukta to the Netherlands for a fair trial.
03. Isn't he guilty?
Prof. Mr. Dr. Guido de Bont, fiscal lawyer, went through the files and concluded that Johan's coffeeshops are as legitimate as a coffeeshop can get. According to Mr de Bont The Grasscompany is a well organised company were nothing illegal is to be found.
On the 12th of november 2015 the court in Den Bosch came to a remarkable conclusion in a case against The Grass Company
"In it's judgment the court evaluated if a punishment is necessary in this case. In this judgment were taken 4 aspects."
Both coffeeshops were following the Dutch tolerance policy.
The company's administration was transparant and flawless. There was an administration where of the stock, there also where contract for employees, including the suspect and the provided wage taxes where paid.
The size of the stock that was found at the suspect' was equal to the turnover of 2.5 days, which can be considered modest and quite acceptable
There was no street or wholesale activitiesAll things considered, the court finds that there are criminal offenses that arise directly from the legitimate operations of the tolerated coffee shops. Because it's necessary to commit these offenses to run a coffeeshop the court rules that the defendant does not impose punishment and apply judicial pardon. "Johan and his wife were sentenced in Thailand to this draconian punishment on the basis of earning money in the Netherlands by four regulated coffee shops.
04. Why does this case matter?
Johan van Laarhoven is a coffee entrepreneur who made a huge contribution to the cannabis culture in the Netherlands. The coffeeshops of The Grass Company are visited on a regular basis by delegations of politicians as an example of modern entrepreneurship in the cannabis industry. The coffeeshops of The Grass Company offer legal work for around ninety people. Who studied the case of Van Laarhoven can only conclude that the Prosecution has acted negligently and unlawfully. With disastrous consequences for Johan van Laarhoven, his wife and his family. In the words of his lawyer Gerard Spong: ". The Dutch Prosecutor conducted a very sloppy legal operation with far stretching consequences, in exchange for some information from a public prosecutor in a dictatorial regime. Dutch judges did not convict suspects when it come to the tolerance policy in over three years. They make a statement through these verdicts on the government to clarify the policy of tolerance so that there is no doubt about what now is allowed and what is not. The case of Johan van Laarhoven is an example of the failure of this policy, and therefore it is important for the future of the cannabis industry in the Netherlands.
05. I would like to see Johan and Tukta is this possible?
Unfortunately Tukta is not allowed to receive visitors who are not related. If you still want to do something to help Tukta then you can write a letter via our website.
Johan is allowed to receive visits from people outside his family. This is another difficult story and this can probably be arranged through the Dutch Embassy. If you want to visit Johan we would advise you to contact he Dutch Embassy in Bangkok timely. The name and address is stated below:
Dutch Embassy in Bangkok
15 Soi Ton Son
Lumpini, Pathumwan
Bangkok 10330
+66 2 309 52 00
There is also the possibility to get in touch through a contact form available on their website. They state that they strive to answer questions within 48 hours.
06. What can I do?
Recently, Johan van Laarhoven and his wife, also at the hands of the Dutch Public Prosecutor, where sentenced in Thailand to 75 years and 7 years in prison for money laundering. This money which Johan has earned lawfully by exploiting four coffeeshops which are still tolerated by the name of The Grass Company. The tolerance policy creates a lot of uncertainty and confusion at home and abroad. The case of Johan van Laarhoven is a clear example of this. He seems to have become a victim of the failing policy of tolerance of the Dutch government.
Risk of prosecution of cannabis entrepreneurs abroad.
Not only the certainty of Dutch entrepreneurs and workers in the cannabis sector is put in jeopardy. This also applies to any other professions that are tolerated or accepted in the Netherlands, and which are banned in Thailand. Think of casino employees (gambling is illegal in Thailand) and staff of abortion clinics (committing abortion is illegal in Thailand). All of which are culminated in the conviction of Johan van Laarhoven and his wife Tukta. They are convicted for things that are legal in the Netherlands.
A call for a fair trial
With this petition we want the Dutch government to make efforts to get Johan van Laarhoven and his wife Tukta to the Netherlands and to give them a fair trial in a Dutch court. The Thai court has ruled that Johan van Laarhoven in Thailand did no do anything illegal in Thailand.
You can leave a message
Johan and Tukta appreciate it greatly when they receive letters. You can write a letter to Johan and Tukta: Letters helps them to keep courage. You can do this through a letter that you can send to the address below. You can also leave a message on this website. We make sure that this ends up with Johan and Tukta.
Johan van Laarhoven
Do you want to write a letter to Johan? You can do that here
Mingkwan Taenin (Tukta)
Do you want to write a letter to Tukta? You can do that here.