After we stuffed all of our merchandise and other items in the car we left for our first pick up point, The Grass Company spoorlaan. Some of the ladies where already waiting for us and eager to go. These ladies volunteered to help Justice for Johan and wanted to help us with collecting as many autographs possible for the petition. 
Next was our second pick up point, this was our last stop before we would start our final trip to the Flevopark in Amsterdam. At The Grass Company in 'S Hertogenbosch there was another batch of volunteers waiting for us. And again, they offered to volunteer to help Justice for Johan.
Since it was a quiet Sunday morning their almost was no traffic on the road and within 1.5 our of departure from 's Hertogenbosch we arrived safe and sound at the festival ground in Amsterdam. Since we where to have a stand at the hemp market we first started to search for Maura Picavet, he was in charge of the organization. Luckily Mauro was the first one we ran into and he gave us a superb spot in the middle of the market.
After we unpacked all of our stuff and put al of our merchandise in our stand we found out that we forgotat a thing or two. Because we are pragmatic we used some MacGyves tricks to fill in the gaps that arose because we forgot some stuff. After that all of the employees where provided with a t-shirt, a cap, merchandise and autograph list the volunteers where ready to go.
There was only a slight problem at the beginning, it started to rain like the earth was going to drown. The ladies and gentlemen quickly found their shelters at the some other stands. Between the showers they ran to our stand where they rece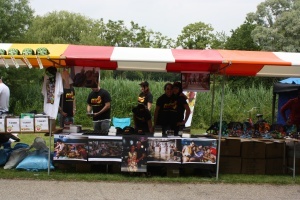 ived some rain ponchos (yes we where well prepared). After they received the ponchos they went on like the rain wasn't there and rolled like unstoppable train.
After the showers finally stopped the sun started to show and it was time to do the first 'assignment' of the day. We 'ordered' our volunteers to enjoy the festival as well. We poured the first wines and beers, and off course there was some herb smoking as well. Because this needed to be a fun day for the volunteers as well.
After a bad start the good weather started to pay off because the festival started getting more and more crowded. This resulted in a very busy stand with sincerely interested people who came to ask about Johan and Tukta. Some people literately pulled their friends by the arm to sign the petition. This was a very funny but also a very touching thing to see. And the way people reacted said it all, anger, a lot of anger, disbelief and some people even felt repulsive. How could the Dutch government do this to their own citizens. A lot of people also asked if they could donate or do something else. This geste is very appreciated, we wish Johan and Tukta could be hear and experience this reactions. Only if it where for one day. This would give them a lot of positive energy in the Hell of Bangkok.
This day was not only visited by cannabis enthousiast or cannabis entrepreneurs. There also where some famous Dutch people and politicians. They weren't cannabis consumers but they are fierce opponent of the ridiculous Dutch tolerance policy.
On the of the political attendees was member of the Dutch house of Parliament from the D66 party Vera Bergkamp. Together with here party Miss Bergkamp is the person who already filled the fifth (!) round of Parliamentary questions about Johan. We dre to say that Vera Bergkamp won't stop until the minister of justice answered here questions properly, she is also very motivated to get Johan and Tukta back to the Netherla
nds. She also is working a bill for regulation of the so called backdoor which  could end the so called 'tolerance policy'.
One of the other attendees was the former Dutch prime-minister Dries van Agt. He was one of the persons who was scheduled to speak at this event. While he appeared on the stage people cheered loudly. And he sort off apologised that he couldn't finish she 'tolerance policy' (mr. van Agt introduced this policy). He also had some time to talk to Frans, the brother of Johan.
He also was shocked and he also sympathized while hearing this horrible story.
The ambassador of Justice for Johan, Filemon Wesselink, also wanted to contribute to this day. He suggested that he could do an interview instead of the speech that Fra
ns was ought to do. And so it happened, the sharp questions of Filemon intrigued the audience. The answer of Frans about this situation of Johan visibly led to outrage. Again, why does a government do such things? And why don't they do anything to correct this wrong doing.
After the onstage interview by Filemon and Frans nearly every visitor of the festival wanted to sign the petition. Although how farther the festival progressed, how more difficult it was for the volunteers to tell this story. This was not their fault but it probably had something to do with the amount of cannabis consumed by the visitors that day!
While many of the visitors of the festivals where lying in the grass in front of the stage it was time for the Justice for Johan team to pack their stuff and go home. It was a very fun but also a very productive day. With over 1900 autograph we left back home.
We again, want to thank all volunteers for their superb work. Next year we will be back, hopefully with Johan and Tukta!